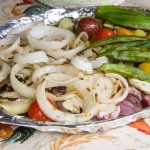 In recognition of National Farmer's Market Week August 2 – 8, 2015 please join us at the Ashe County Farmers Market on Saturday, August 1, 2015 for a cooking demonstration by Chef Ric Cain, Boondocks Brewing Tap Room & Restaurant. Ric will be grilling several different types of vegetables from our vendors grown right here in Ashe County. Of course there will be samples for all to taste. Grilling will begin about 10:00 am and last until 12 noon and Ric, always has new ideas (recipes) for grilling anything on the grill (gas or charcoal).
Also, don't forget to shop at all our vendors – all types of produce, baked goods, crafts of all types, jewelry, soaps, goat cheese, fresh flowers, all types of nursery items, grass feed beef and pork, eggs, honey, whole chickens (maybe rabbit and quail eggs), jellies and jams, and other items.
The Market is open from 8:00 am – 1:00 pm every Saturday through the end of October and every Wednesday from 8:00 am-1:00 pm through September.
Look for the Joyners (Ron and Suzanne) at the market on Saturday with garlic braids and hardneck garlic bulbs. They will also have cabbage and pattypan squash.